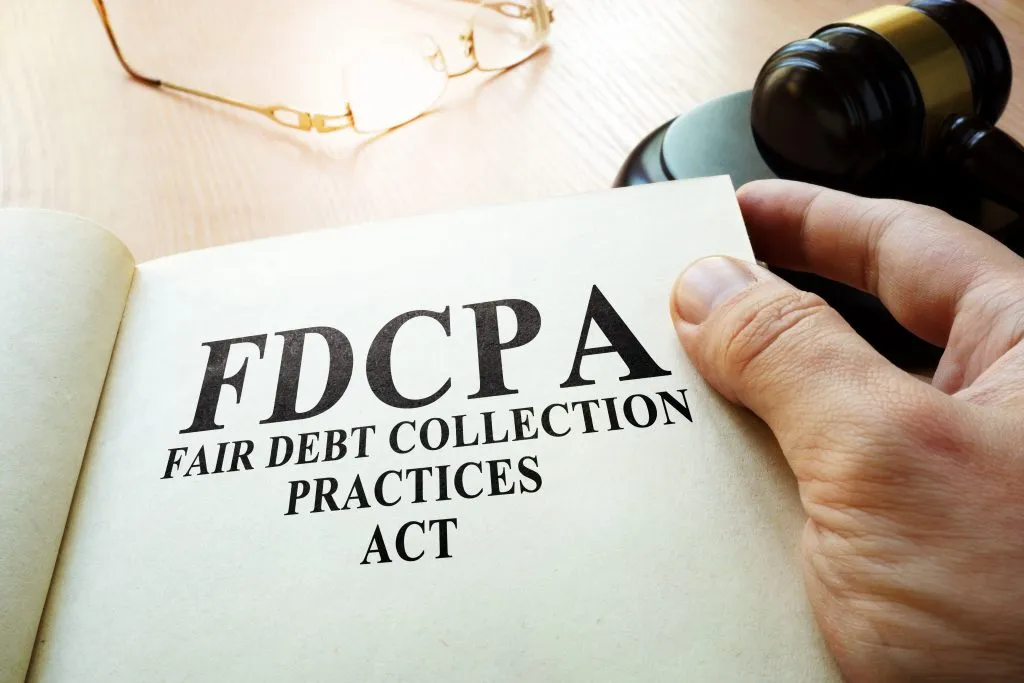 Get to Know Your Debtors Rights in California
Feel like you're all alone against harassing debt collectors? Do you feel like you're being hunted by your creditors? Tired of the non-stop letters, rude phone calls, and feeling like you're trapped by your debt? Are you being sued in a debt collection lawsuit? 
There Are Debt Collection Laws to Protect California Consumers Like You
Just because you're behind in paying your bills, it doesn't mean that you don't have rights. Owing money does not mean collectors can treat you like a criminal.
1 in 3 adults in America has debt in some form of collection. The federal government and California have passed laws creating rights for people who owe money and governing how debt collectors must act.
If a debt collector or creditor is found to have violated your fair debt collection rights, you could be eligible for a cash settlement.
Kazerouni Law Group has helped thousands of Californians who feel trapped by their debt. By advocating for consumers, we've recovered over $1 billion for our clients nationwide. 
Kazerouni Law Group will sue a debt collector at no cost to you. Contact a California debt lawsuit defense lawyer for a free case evaluation by calling 800-400-6808 or by filling out our Case Evaluation Form
How Do Debt Collection Laws Protect Consumers in California?
In California, debt collection activities are regulated by the Fair Debt Collection Practices Act (FDCPA) at the federal level and the Rosenthal Fair Debt Collection Practices Act (RFDCPA) at the state level. These laws aim to protect consumers from abusive, deceptive, and unfair practices by debt collectors.
The following are some key points regarding debt collection laws in California:
Prohibited Practices. Debt collectors in California are prohibited from engaging in certain practices, such as harassment, using abusive language, making false statements, misrepresenting the debt, contacting consumers at inconvenient times, and using unfair or unconscionable means to collect a debt.
A debt collector or creditor may not:
Contact you before 8:00 a.m. or after 9:00 p.m.
Contact you at work after you've told them you cannot take calls there
Contact you after you've asked them to stop (call us for more details)
Contact or speak to others about your debt (except your spouse)
Contact you or leave a message without identifying themselves or why they're calling
Contact you to collect an invalid debt
Threaten you with violence or harm
Use obscenities, profane or abusive language, or shout or scream at you
Call repeatedly to annoy or harass
Misrepresent themselves as attorneys or government representatives
Make any false statements about your debt, including the amount owed or who it is owed to
Tell you that you will be arrested or go to jail if you don't pay your debt
Threaten to take any legal action against you that they cannot legally take or intend to take – including filing a lawsuit, seizing or putting liens against your property, or garnishing your wages. A debt collector must first sue you and obtain a judgment from the court before they can do these things.
Report or give false credit information about you
Ask you to pay more than you owe or pay the wrong amount
Validation of the Debt. Upon a consumer's request, debt collectors must validate the debt, including the amount owed and the creditor's information. The validation request should be made in writing within 30 days of receiving the initial notice of the debt.
Statute of Limitations. California has statutes of limitations that restrict the period during which a debt collector can file a lawsuit to collect a debt. For most types of debt, the statute of limitations is typically four years from the date of default. However, it's important to note that making a payment or acknowledging the debt can restart the clock on the statute of limitations.
Cease and Desist. Consumers have the right to request that debt collectors cease communication with them. After receiving a written request to cease and desist, debt collectors may only contact the consumer to confirm they will cease collection efforts or to inform them of legal action being taken.
Remedies and Penalties. Violations of debt collection laws can result in legal consequences for debt collectors. Consumers who have been subjected to unlawful practices may be entitled to seek damages, including actual damages, statutory damages, and attorney's fees.
If you have experienced any of the above violations within the last year, then you may have an FDCPA or an RFDCPA case.
You can fight back, and we can show you how. Click here to fill out a short, 2-minute evaluation, or Call 800-400-6808 to talk with one of our experienced California debt lawsuit defense lawyers.
Even if you believe you have not experienced one of the violations listed above, your rights may still have been violated.
Both the federal and the California debt protection laws are complicated with numerous ways that they can be violated. 
How to Tell If Your Debt Collection Rights Have Been Violated in California
Understanding the Rosenthal Fair Debt Collection Practices Act (RFDCPA) is important for safeguarding the rights of debtors and shielding them from unfair treatment by collection agencies, debt collectors, creditors, and debt collection attorneys trying to collect the debt.
Unlike the Federal Fair Debt Collection Practices Act (FDCPA), the RFDCPA is a comprehensive California law that offers protection to consumers from both third-party debt buyers and original creditors.
To provide a general overview, we have compiled a guide of common violations that debtors often encounter. Please bear in mind that this list is a starting point and not comprehensive. To assess your situation, consider the following questions:
Have you been contacted, either in writing or by phone, by a debt collector attempting to collect a debt? If yes, proceed to question 2.
Is the debt in question a consumer debt, meaning it is not a business debt and was solely for personal use? If yes, proceed to question 3.
Did the debt collector(s) engage in any of the following actions:
Continued contacting you after you requested them, in writing, to cease communication?
b. Made multiple calls within a short period?
c. Disclosed information about your debt to third parties (excluding your spouse)?
d. Contacted your place of employment on more than one occasion?
e. Used verbal abuse, shouted at you, or employed profanity?
f. Issued threats against you?
g. Threatened legal action that they had no legal right to take?
h. Threatened legal action that they did not initiate or intend to pursue?
If your answer to any of the above questions is yes, there is a possibility that you may have a case under the RFDCPA. We recommend seeking the counsel of an attorney knowledgeable in this area of law. They will assess your situation and provide appropriate guidance.
Please note that the list provided above serves as a basic reference for common violations and is not exhaustive.
Each case has its unique circumstances and exceptions. This information is intended as a general guide and should not be considered legal advice, as every case requires individual evaluation.
What Should You Do After Being Sued by A Debt Collector in California?
Consider Challenging Your Debt Collection Lawsuit
If you find yourself facing a lawsuit from a debt collector in California, it's important to take prompt action to protect your rights and navigate the legal process effectively. Here's a step-by-step guide on what to consider and how an attorney can assist you in this situation.
Consult with an Attorney. Seeking the guidance of an experienced attorney who focuses on debt collection defense is highly recommended. A lawyer can assess your debt collection case, help you understand your rights, and provide strategic advice based on the specific circumstances of your situation. 
Understand the Lawsuit. If you have been served by a process server, an attorney can carefully review the lawsuit documents, including the summons and complaint, which outline the creditor's claims against you. Some details such as the name of the plaintiff and the debt amount could be wrong.
Responding to the Summons. Your attorney will help you prepare an appropriate response to the complaint within the designated timeframe. Failing to respond can result in a default judgment, which may have unwanted consequences.
Validate the Debt. Your attorney will review the details of the debt, including its validity and any potential statute of limitations issues. Some creditors and debt buyers try to collect on time-barred debts. A consumer law defense lawyer will assess whether the debt collector has the legal right to collect and challenge the debt if there are grounds to do so.
Gather Evidence. Your attorney will help you gather relevant evidence to support your defense or any counterclaims you may have. This may include reviewing financial records, correspondence with the debt collector, or seeking proof of payment if applicable. If the collector engaged in unfair or deceptive acts before filing a lawsuit, your rights may have been violated and you could potentially be awarded monetary damages.  
Explore Possible Settlement Options. A debt collection lawsuit is often won in court; however, your attorney can negotiate with the debt collector or their attorney on your behalf. Your lawyer can work to reach a favorable settlement agreement, but only if that is in your best interest. 
Prepare for Court. If the lawsuit goes forward, your attorney will guide you through the process, ensuring that you understand your rights. Your attorney will represent your interests, present a strong defense, challenge the creditor's claims, and enforce any debt collection violations.
Throughout the legal proceedings, your attorney will ensure that your rights are safeguarded. They will advocate on your behalf, challenging any unfair or abusive debt collection practices, dispute the debt, and make the creditor or debt collector validate the debt under California and federal laws. 
Contact a California Debt Lawsuit Defense Lawyer 
If you're facing a debt lawsuit in California, it's advisable to contact a skilled California Debt Lawsuit Defense Lawyer who can provide guidance and protect your rights.
Kazerouni Law Group is here to help. With experience in debt collection defense since 2007, they have successfully helped clients obtain compensation when their rights have been violated by debt collectors.
Their dedicated team is committed to protecting your rights and ensuring you receive the appropriate recourse for any violations you may have experienced.
Don't face a confusing and frustrating debt lawsuit alone – call Kazerouni Law Group today at 800-400-6808 to schedule a consultation.